Life doesn't always go the way you want. And in the moments when it seems like you can't take it anymore – be patient. Better times are coming. This blog article is dedicated especially for everyone who is/are going through difficulties.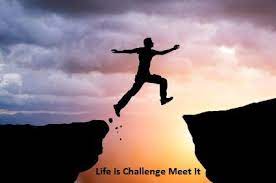 Everything will pass
Life tends to overwhelm us from time to time. That is difficult, because at such moments you can completely lose the overview. Not only does it feel like there's no way out – it also seems like life will always be like this from now on.
But if life is good at one thing, it's change.
Everything is temporary . Even if you feel like you're all over it. Even if you don't know how to keep your head above water. Change is always on the horizon, even if you can't see it yet.
When you feel like you've been exposed to the elements, as if your bare skin is being cut by icy winds – know that this moment isn't forever.
Life isn't all about pancakes
No – sometimes it's tough, challenging and overwhelming in all sorts of ways. We can always do our best to grow, to become stronger and to develop ourselves. We can read books, meditate, overcome fears, set goals, challenge ourselves to do things differently.
But weathering adversity —keep going when you're bombarded by cutting headwinds— is often the only way to truly grow in the areas where growth is most needed for you . This is the resistance you need to become the person you need to be to overcome bigger challenges.
To become wiser, more powerful and more valuable to those around you. In a sense, this period of despair and adversity lays the foundation for a new life.
So often the deepest setbacks prove to be the most effective foundation for a deeper and more valuable life:
People go through a deep burnout and decide to use their lives to help others take better care of themselves.
Going through a serious illness or intense trauma allows you to provide more value to people going through the same thing.
People go through a deep depression and eventually discover for themselves that life is indeed worth living, and find deeper meaning and satisfaction.
There are those who lose everything – through a fire, bankruptcy, or some other tragedy – only to find that they can eventually find happiness even in the situation they feared most, offering tremendous inner freedom.
Because someone has broken your heart, you learn step by step about self-love and you manage to heal your heart, making you stronger than you otherwise would ever be.
As life tests you, with countless challenges simultaneously coming your way, you learn to stop fighting and surrender to what is . An insight that will help you find more peace for the rest of your life.
It is the most difficult periods that help us grow – help us mature . Who have made us who we are today, and who will shape us into who we are ten years from now.
You can't control the weather
The icy storm is slicing into your skin – whether you like it or not. You can't influence the weather, you can only influence the way you weather this storm.
Take the steps necessary to make the situation better. And at the same time know that life right now is exactly as it is, and no different. As you work to work through this situation, you can surrender to it.
It's hard, that's the way it is now . And it gets better, but now it is the way it is. And that's okay.
Sometimes there is nothing you can do. Then throwing up is your only option . Surrender to the situation and be patient, waiting for better weather. Don't keep wishing things were different, but take the time to work through this situation and grow stronger.
Life is not always easy. And your fierce resistance to change often makes it even more difficult. Like panicking in quicksand sucking you down deeper and deeper. Calm is strength . Patience and surrender will get you through this.
Everything is temporary. Even the deepest dips in your life. Take a deep breath, be kind to yourself, be patient. You can do this. 
Lift yourself out of a difficult period
Are you going through a difficult period in your life right now? Don't worry – you're not alone. We may not be able to solve your problems in one fell swoop, but there are many steps we can take together . Always do your best how difficult it is. Don't Give Up !!!