THIS BLOG IS SPONSORED BY :
WWW.JIBODHPHOTOGRAPHY.PRO
Hey Visitor,

Let us dive a bit into the Freedom of Money and the life energy what I believe is related to each other.

But first let me clarify something. Life energy is in my opinion the willingness to live and the eagerness to live every moment of your presence. And I know you might think, yes but because I have no money flow I am not really willing to live. But please be 100% honest to yourself. Is it for real that money is the thing, that you don't like to be here and live or is it something else?

So you just said, the money flow is related to the life energy who is running though my system. Yes but, the moment you are free these two are related, no life energy, no flow of money.  As this works instant in my life, it may take a while to readjust in your life.  The 'but' is about the state of your freedom, the more conscious and free you are, I believe the more this works for you.

The moment you are stil playing in games, giving energy to something outside yourself and taking life energy from someone else, you are still not consuming your own energy. So this won't work at all. The human who is playing in the power game, is dependent on life energy what we get from people, things, animals and activities outside ourselves. Where we gain our life energies.

Let's say you are a balloon, but in order to have a certain money flow you have to fill the balloon. We are used to fill this balloon with energies outside ourselves. The air we put in the balloon is the life energy from others, the bigger our money flow the bigger the balloon and the more life energy from outside ourselves is needed.

The moment we can shift this energy consuming from outside ourselves to just our own life energies, we never need any other life energy than our own. We never have to look and search outside ourselves and we can be here now and enjoy the Freedom in money.

I was doubting if I would share this all with you. I know this may feel inspiring and discouraging as well.  So I want to share a few quick notes how we can shift this and how we are able to start consuming our energies.
First we have to quite with all the things we do, what we don't want anymore. We loose our own life energy and we are not able to use them ourselves.
Second you should stop using someone else their energy and give back what is not yours. I mean this energetically.
Start using your own energy and start spending money on you, out of love and only on things you want.
Shift your energy flow from outside to inside and discover your own space of treasure filled with life energies in the size you want.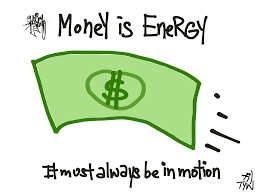 The last point, I have to admit, is not something I can tell you right here, as in matter I can but this won't work without all the energy work and releasing from gravity first.
As the matter is, this is one of the many things I teach  at the moment. In this business together, I will take you from your current situation, the human prison where you might find yourself in now, into the state of totally freedom, the state of self realization. As I am so grateful and so amazed how deep and how far this program is going to take you when you decide to join us.
I have to tell you that this program is not testing the waters, it is not just something and I ask you to jump and trust yourself to fully let go.
If you feel this is something you want and something you are ready for you can click on the link below to join us. LEARN – EARN-GROW…